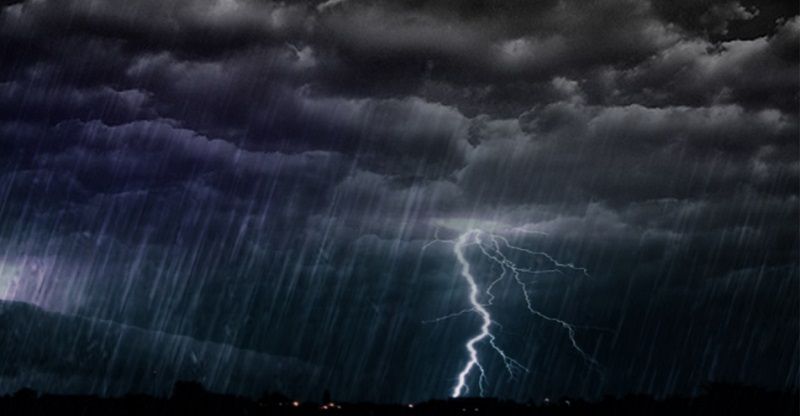 The Meteorological department has predicted rainfall with Thunderstorm & Lightning in Most Districts of Bihar Till June 14. The intensity of thunderstorm is expected to be relatively higher on Saturday and Sunday. Southwest monsoon is also expected to hit most districts of Bihar in next 2-3 days.
Patna Meteorological news stated on Wednesday that rainfall with thunderstorm was likely at one or two places in Bihar over the next two days, without comparatively higher spread in northeast and southeast area of Bihar.
A thunderstorm warning with yellow-colored (yellow alert specifies that authorities concerned must be watchful for extreme weather conditions) been issued for all the district of Bihar over the next 3-4 days.
Meteorologist Sanjay Kumar, at Patna Metrological Centre, said the expected thundershowers to "atmospheric instability" ahead of monsoon. "The monsoon current is advancing very smoothly and is expected to reach up to Sikkim within two-three days.
Accordingly, the wind direction has changed from dry west to moist easterly. Change in wind direction along with moisture incursion is leading to atmospheric instability, which is a peculiar phenomenon ahead of the onset of monsoon," he said.
Sanjay Kumar said moisture incursion is taking place from merger of two cyclonic circulations over north Odisha, east Uttar Pradesh, and its neighborhood. "The high level of moisture along with heating in lower level of atmosphere due to comparatively higher temperature over the last couple of days have created weather conditions conducive for thundershowers," Kumar said.
ALSO READ: Superspeciality Hospitals at Darbhanga & Muzaffarpur, Bihar
The weather news also stated that southwest monsoon more advanced to some parts of
Tamil Nadu
Tripura
west central
Bay of Bengal
Manipur
Mizoram
Nagaland
Assam
It further stated that moderate to light rain at few places over
northeast
northwest
south-central Bihar
in the next 24 hours.